SO exciting – want to join us? Learn more at GoddessPrayLove.com or click here…
Trinidadian healing artist Danielle Boodoo Fortune has an exciting workshop for you.

About Goddess Danielle
Danielle Boodoo-Fortune is an artist, writer, mother and magicmaker from Trinidad and Tobago. Her art has been exhibited in the Caribbean as well as internationally, and featured in numerous publications. Danielle is the illustrator of Lost! A Caribbean Sea Adventure (CaribbeanReads) and The Jungle Outside (HarperCollins Publishers). She has illustrated several other projects, most recently the EarthCraft Oracle Deck (Hay House) in 2021.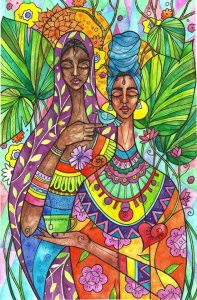 Workshop Description:
The Art of Manifesting Miracles with Intuitive  Artist Danielle Boodoo-Fortune
What are you birthing in your life right now, fertile goddess?
Ready to stand in the fullness of your power? Nourish your spirit in this transformational watercolor painting experience of healing, mindfulness, personal magic and self-love.
"Think of all the miracles that already happened for you. Know that in this moment you are blessed." -DBF
Earthcraft Oracle artist Goddess Danielle presents a Guided art session to awaken your dreams, intentions and sacral chakra.
"I will not be afraid of my fire.
My burning, my longing, my yearning
Even to myself
I am vast and unknowable " -DBF
Vision boards are powerful. Channeled goddess artwork is even more powerful.
"We are the leaders our ancestors prayed for." -DBF
In a guided process from sketch to finished piece, Goddess Danielle shares processes, tips and techniques for creation, manifesting and alignment.
Learn more here: https://womanifesting.com/goddess-manifesting-retreat-tobago/