About the Black Panther movie: After the death of his father, T'Challa returns home to the African nation of Wakanda to take his rightful place as king. When a powerful enemy suddenly reappears, T'Challa's mettle as king — and as Black Panther — gets tested when he's drawn into a conflict that puts the fate of Wakanda and the entire world at risk. Faced with treachery and danger, the young king must rally his allies and release the full power of Black Panther to defeat his foes and secure the safety of his people.
Producer Kevin Feige, director Ryan Coogler, and actors Lupita Nyong'o, Michael B. Jordan, Danai Gurira, and Chadwick Boseman and many more talented people…
Damali Abrams, Guyanese African American artist shares her thoughts on the movie.
Damali, the Glitter Priestess on Black Panther
Black Panther is one of the most beautiful films that I have ever seen.
I am seeing a lot of one-dimensional reviews of what is a very nuanced film with multidimensional characters, so without any spoilers, here are some of my thoughts on the film:
I think that it provides a cautionary tale about what happens when the oppressed decides to become the oppressor. Colonial domination is not a good idea no matter the race of the colonizers.
It made me think of Audre Lorde's quote "the master's tools will never dismantle the master's house". A system created by violence will have to be maintained by violence.
It also shows the effects of unhealed trauma on children who may grow up to be mean violent criminals, or villains.
It shows the trauma of Africans in the diaspora who feel cut off from their ancestral homeland and may act out in inappropriate, dysfunctional, and harmful ways because they have no healthy outlet for that pain or even a name for it.
It also shows the transformative power of love and forgiveness, loyalty and collectivity. And conversely, that blind loyalty is not always the best choice.
At least that's what I saw.
Watch!
Damali Abrams' Banishing | Binding | Incantation
A ritual performance to banish and bind anything that is not love from our reality.

[YouTube Video Link]
Black Panther Movie Album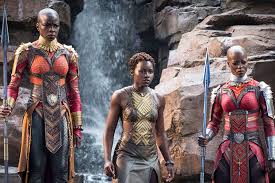 Abiola's Black Panther Movie Family Album
Pin Me!