Showing up is half the battle…
Hey Goddess!
So how's this Mercury in Retrograde treating you?

I usually try to just soul-over-matter with these retrogrades but I am finding this one to be especially VICIOUS.

There I said it!!

YESTERDAY, we had a POWER VIDEO CALL for the aspiring writers in the Spiritpreneur Warrior Business Sisterhood with my fave editor Alissa McGowan, and now WebinarJam may have botched the video replay — first time ever.

THEN – YESTERDAY, goddesses were trying to register for the Spiritualista! Goddess Pray Love Retreat to come get their feminine POWER on in BELIZE with me to celebrate the Summer Solstice — and links weren't working.

Links — on GoddessPrayLove.com — that 3 different people tested on 3 different computers and browsers — fixed now! 🙂

AND THEN — I just realized that I thought YESTERDAY was DAY 7 of 12 Days of Blissness – our AWESOME Business Vision Board Challenge – BUT TODAY is Day 7.

Deep breath.


Stay present.


Note to self!! lol

Anywhoo…

— Find the replay for YESTERDAY's 12 Days of Blissness, Day 6– CLICK HERE!!

TODAY — Your sacred mission for DAY 7 of 12 Days of Blissness — is STOP HIDING.

YOU are the STAR of YOUR LIFE AND BUSINESS.


Declare 3 (THREE) ways that you are going to SHOW UP MORE in 2018.


**Extra GLITTER for YOU if you make a VIDEO about this new declaration.

**And of course, add it to your Vision Board — AND ADD it to our GROUP VISION BOARD on Pinterest, which is pretty badass!!

Join the Vision Board Challenge at UnblockMyVision.com.

*****And I will see you, technology and Mercury-willing (yikes!!) at 3pm EST TODAY for a FB LIVE about SHOWING UP.*****
xoxox,

a.

P.S. SHOW UP for yourself and your POWER in Belize — June 2018. Hold your spot for only $150 until January 1st — when the rates go up.


Here's the link: http://GoddessPrayLove.com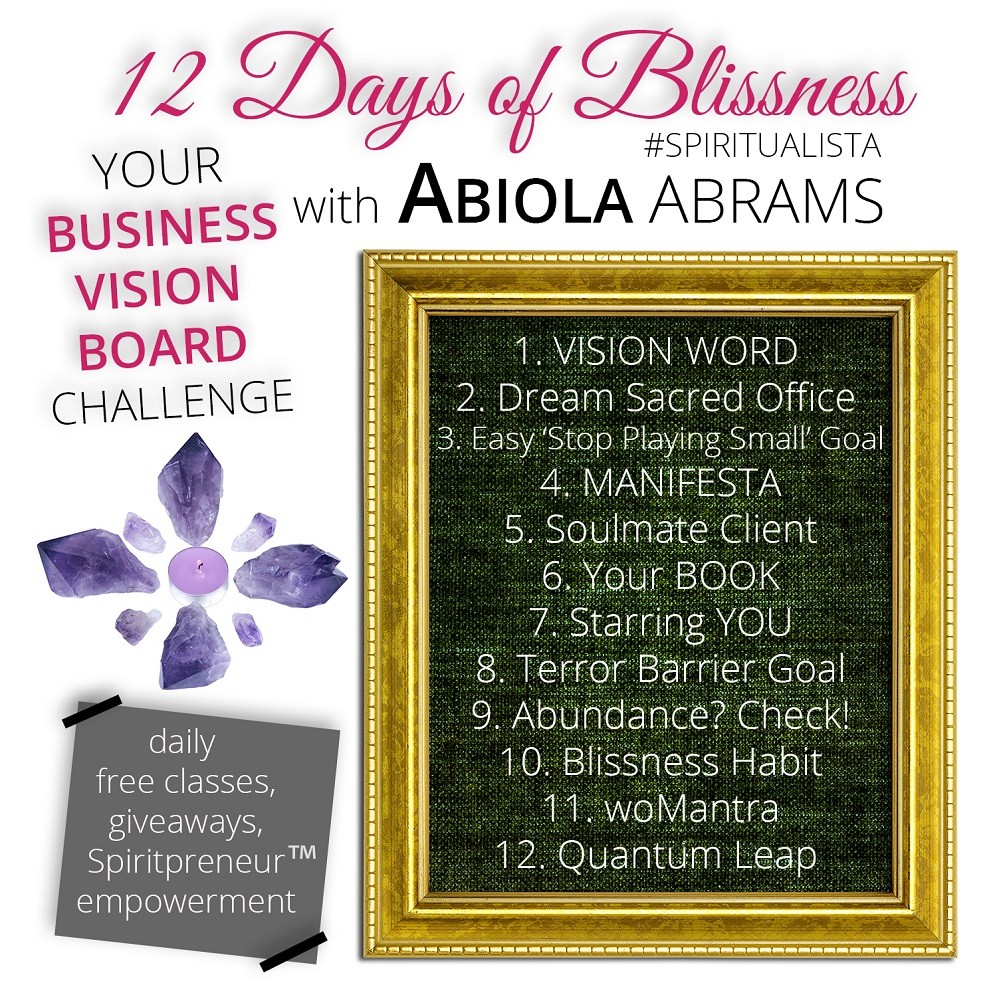 Showing up is half the battle…
Pin Me!